Speech by WMU President John M. Dunn (Summary)
I thank many of the alumni for traveling to WMU for Dr. Soga's memorial service. During my stay in Japan this time, I was excited to visit many of the Japanese sites, and welcomed the opportunity to strengthen WMU's relations with its Japanese partners and alumni. I would like to update you with current campus events and future plans, and share an overview of WMU's strategic plan. Highlights include the new WMU School of Medicine, which will welcome its entering class in fall 2014, and the proposed alliance with the Thomas M. Cooley Law School. I also wish to share with you WMU's international statistics where WMU enrolls nearly 1,600 international students from 95 nations, and we now send more than 500 domestic students on study abroad. I also wish to thank the members of Kalamazoo Kai for their continued support of WMU's Soga Japan Center, and wish to share the information regarding the launch of a special Japan-U.S. Teacher Exchange program. WMU is coordinating this program through Japan's Ministry of Education, Culture, Sports, Science and Technology, and the Ministry of Foreign Affairs. WMU is looking forward to welcoming their third batch of participants at the end of July, which will consist of fourteen Japanese teachers.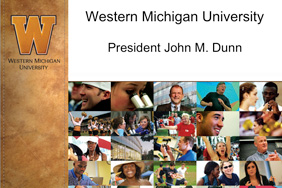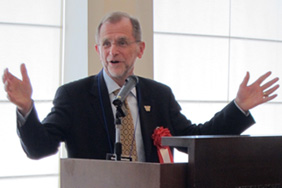 I also wish to highlight the School of Music's recent achievement in reaching its 100th anniversary and being the first university in Michigan to be named an All-Steinway Music School. I am proud to comment on the construction of the new Sangren Hall. It is built to LEED gold specifications and it is already saving the university more than $300,000 a year in energy costs. Next month, a rooftop solar array will harvest the equivalent of 15 percent of the building's electrical energy usage. Additionally, expansions were made to the Lee Honors College, which is the academic home to nearly 1,600 of some of the most talented students in the nation. I note the changes in on-campus housing, including the upcoming finish of Phase II of the new Western View apartment-style complex for upperclassmen.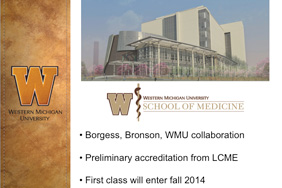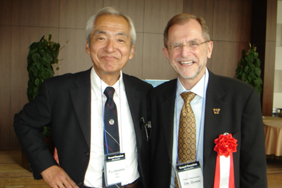 Lastly, WMU Archives and the Regional History Collections will soon be moving to the new Zhang Legacy Collections Center on Oakland Drive where the important materials will be better preserved. I wish to announce to you that East Campus, where the archives were previously held, will be transformed into an alumni center. The University's commitment to restoring East Hall and Prospect Hill is a testament to the long-lasting partnership between WMU and its community because the building and hilltop were gifts from Kalamazoo when WMU was established in 1903. East Hall will become a campus and community gathering place, a home for WMU alumni and development offices and a spot to showcase WMU's heritage for current and new members of the campus community. Thank you.