ジャパンセンター 報告
Let me begin by saying how wonderful it is to see so many of you here today. The last time we gathered together in this number, I believe, was to celebrate the opening of the Mitchitoshi Soga Japan Center. Dr. and Mrs. Soga were both with us then. In the intervening years much has happened at the Soga Japan Center. We have grown by leaps and bounds in a large part thanks to your generous support. Today I will give a brief update on our accomplishments.
First, as you have heard we now have Japanese major at WMU. What is more, the Japanese major, which started just this past fall, is now the second largest language major at WMU behind only Spanish. Interest in the major and in studying Japan just keeps on growing. Over the years we have hosted many, many guest speakers, artists, poets, and writers. We have also brought several film series to campus as well. In addition, we have hosted two significant Japan workshops and two major conferences.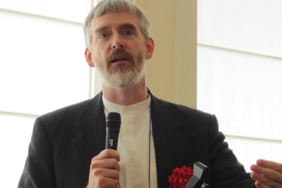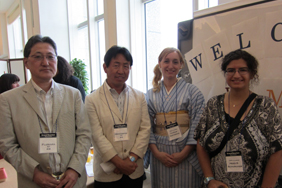 Most recently we applied for and won a major Japan Foundation grant that has brought to us a faculty member in Japanese literature for two years and has helped to fund our outreach coordinator Michiko Yoshimoto, who some of you know. Michiko's work has been amazing. She speaks before over 3000 people each year. She runs Japanese culture workshops all across Japan teaching people from Kindergarteners to retirees about Japanese language, kimono, origami, calligraphy, Japanese food and more. If you have not done so, please "Like" us on Facebook so you can follow Michiko's work and keep up with all of the events we host.
In addition to all of this, I am happy to report that WMU was also selected as one of only seven institutions in the United States to host a special teacher-training program sponsored by the MEXT and Gaimusho. This program brings a dozen Japanese school teachers to WMU for several months each year to give them training in the latest ESL teaching techniques. We are very proud of all of the work that was done to bring about this and so many other great programs on or related to Japan at WMU. All this would not be possible with all of you -- the fund raising drive Oshima san led, the dinners you put on for our study abroad students, and the network of friends that you represent makes all the difference.Thank you .